This is a brief summary of the timeline for selling your home. Remember, We will be there to be sure you feel confident during each step of the process.
Consultation- Call us and we will schedule a consultation (virtual or in person). In the meantime, download our seller resources from our resource library. It is filled with helpful information about our next steps together.
Pricing- We will review comparable homes and establish a price for your home.
Staging- Prepare your home to make it's big debut on the market
Photographs- We will have your home professionally photographed for MLS.
MLS- Your home will go live on the MLS and will be viewable to potential buyers.
Marketing- We will use a strategic marketing plan to ensure maximum exposure.
Offer- We will review all offers and help you understand all the terms of the contract.
Under Contract- After accepting an offer, your home will officially be under contract.
Negotiations- We will negotiate any repair requests made by the buyer.
Closing- Congratulations! Time to hand over your keys and celebrate selling your home!
A HOME PRICED AT MARKET VALUE WILL ATTRACT MORE BUYERS THAN A HOME PRICED ABOVE MARKET VALUE.
ADDITIONALLY, A HOME PRICED COMPETITIVELY WILL ATTRACT A GREATER NUMBER OF POTENTIAL BUYERS AND INCREASE YOUR CHANCES FOR AN EXPEDITED SALE!
We will work together to establish a fair market value for your home and make sure that you feel confident in the price that we set to list your home. Our goal is to attract the greatest amount of buyers as soon as it hits the market.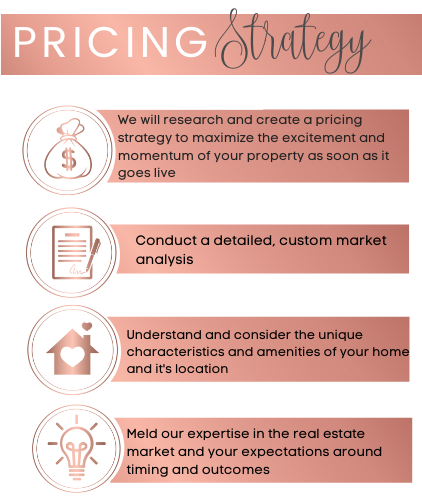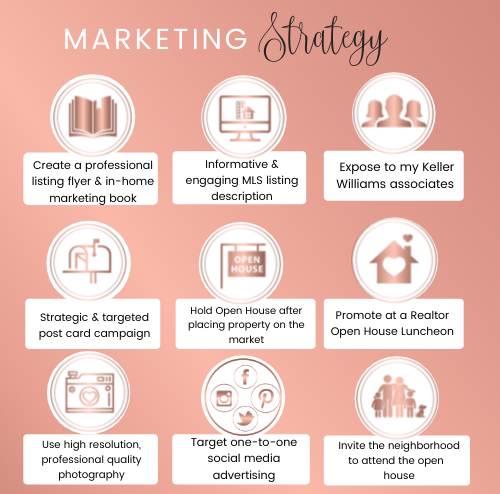 WE WILL WORK TOGETHER TO ESTABLISH A WINNING MARKETING PLAN FOR YOUR HOME.
We approach each listing with a fresh perspective, so we will be sure to customize our marketing plan specifically for your property.
This includes photography, staging, print/digital media and networks, open houses, and website exposure.
Check out a few examples of our beautiful marketing⤵⤵
Sneak Peak: look What's inside the Resource Library
OUR ULTIMATE LIBRARY OF: GUIDES- CHECKLISTS -ROADMAPS- TIPS & TRICKS–
LEARN ABOUT REAL ESTATE IN FLORIDA: THE PROCESS, WHAT TO DO, WHEN TO DO IT, AND WHAT TO EXPECT! CREATED BY US, PERFECT FOR: BUYERS, SELLERS, HOMEOWNERS AND INVESTORS OF FLORIDA REAL ESTATE.
OUR DIRECTORY OF PREFERRED LOCAL VENDORS AND SERVICE PROVIDERS-
FILLED WITH THE PROVIDERS WE KNOW, TRUST AND WORK WITH. EVERYONE YOU WILL NEED FROM
A-Z!
THE ROYAL REPORT-
OUR MONTHLY, MICRO FOCUSED MARKET REPORT EXCLUSIVELY MADE FOR SARASOTA AND CHARLOTTE COUNTIES WILL KEEP YOU A STEP AHEAD OF THE GAME AND IN THE KNOW!
REAL ROYAL NEWS-
A SELECTION OF ARTICLES, HAND PICKED BY US, CONTAINING IMPORTANT INFORMATION, PERTAINING TO FLORIDA, SARASOTA AND CHARLOTTE COUNTY REAL ESTATE. DELIVERED ONCE A MONTH OUR ROYAL REPORT.
GET ACCESS TO OUR ENTIRE LIBRARY NOW!
SAVE TIME- ELIMINATE STRESS-
REMOVE THE GUESSWORK-
FEEL CONFIDENT BUYING, SELLING OR INVESTING IN FLORIDA REAL ESTATE.
Sign up to access our free Royal Resource Library,
full of powerful resources and market insight needed
to make the best decisions concerning your
current or future Florida real estate investment!